Centre for Dominican Studies of Dacia
Monastic Communication Centres
& Fratres regulares et irregulares
Presentation of sessions held at the International Medieval Congress (IMC) in Leeds, 10 July 2012.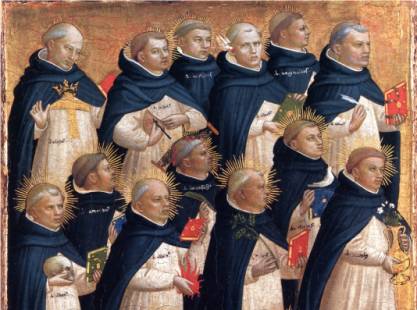 Sponsor: Centre for Dominican Studies of Dacia.
Organiser: Johnny Grandjean Gøgsig Jakobsen, Nordisk Forskningsinstitut, Københavns Universitet.
In 2012, Centre for Dominican Studies of Dacia organised two sessions at the IMC:
1. Monastic Communication Centres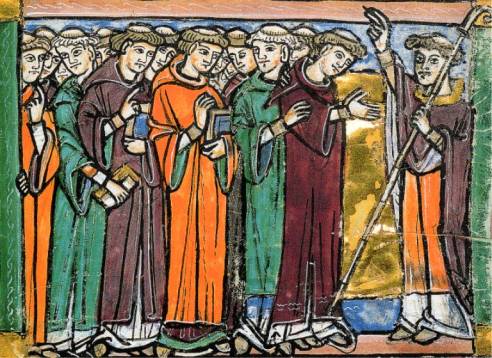 Session no. 519. 10 July 2012, 09:00-10:30
Many medieval monasteries were far from being just secluded islands of contemplation. Especially mendicant priories were centres for both production and distribution of sermons, just as the friars themselves were active outside the priories preaching for the rest of society. But also monasteries of the old orders could be engaged with the outside world in various ways. Some abbeys were closely related to particular lay families, others even functioned as traffic centres for messages and financial transactions between different regions of Europe. This session will present some of the multiple ways that different monastic orders interacted with the outside world in medieval Europe.
Moderator: Kurt Villads Jensen, Institut for Historie, Kultur & Samfundsbeskrivelse, Syddansk Universitet.
Paper A:
Medieval Dominicans Preaching the Rules to Salvation
Lidia Negoi, Centre for Medieval Studies, Universitetet i Bergen.
This paper will discuss the rules preached by 14th-century Dominicans to both lay and religious on how to become better Christians and, ultimately, attain salvation. The way to this ultimate goal of humankind, as drawn up by medieval theologians, was paved up by sets of rules for Christians to comply with (e.g. the works of mercy, the sacraments). I will focus on how the Friar Preachers preached on penance (penitentia) and, consequently, on what sort of rules Christians were supposed to follow in order to gain a place in heaven through this sacrament.
Paper B:
Monasticism and conflicts in late medieval Scotland
Mads Heilskov, Centre for Scandinavian Studies, University of Aberdeen
I will explore ideas about family, name, honour and legitimacy in late medieval Scotland through a case-study of the Hume family's relationship with the Benedictine monastery of Coldingham in Berwickshire in the 15th century. This will be done primarily from charters in Registrum Magni Sigilli Regum Scotorum (The Register of the Great Seal of Scotland). I will showcase how different, identities, mentalities and sensibilities can be derived from the stylized legal language of the charters, and hopefully give some insight to the self-understanding of late medieval Scottish nobility.
Paper C:
International Cistercian networking - Relations between Ter Doest, Scandinavia and the British Isles in the 13th century
Eric Delaissé, Institut de recherche Religions, spiritualités, cultures, sociétés, Université catholique de Louvain
The Cistercian abbey of Ter Doest in Flanders was a connecting point in the European medieval communication network. Ter Doest had privileged relations notably with England and the Scandinavian countries. Its location, close to the sea and to the important harbour of Bruges, as well
as its prosperity, probably played a major role in developing close contacts between the Flemish Cistercians and persons or institutions from countries situated close by or far away. These contacts included the Scandinavian clergy and the king of England. According to the archives of the abbey, these contacts concern often financial transactions and were mostly without any real connection to monastic issues.
2. Fratres regulares et irregulares
Mendicant friars as administrators-, followers and violators of rules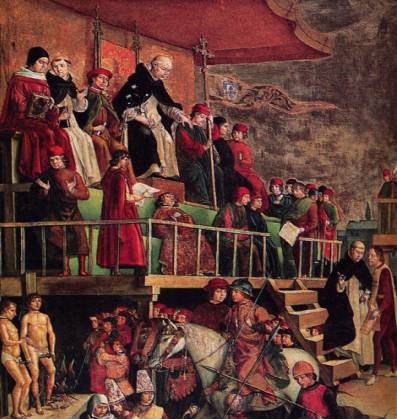 Session no. 720. 10 July 2012, 14:15-15:45
Rules were central in the lives of Mendicant friars. Not only did they live by a rule and set of constitutions of their own, they were also active promulgators of rules to other groups in society in regard of how we should all comply with the numerous regulations in Christian life, ultimately claiming to go back to the Rule of God. This session will look at situations where mendicant friars hand to consider rules of both the spiritual and the temporal world as administrators of the Inquisition as well as houses of asylum.
Moderator: Bertil Nilsson, Institutionen för litteratur, idéhistoria & religion, Göteborgs universitet.
Paper A:
"Tearing the seamless robe of God":

the range of punishments for heresy in 13th- & 14th-century Italy
Gillian Moore, Birkbeck College, University of London
Breaking rules implies punishment for the offender. But were all offenders punished equally, and if not, why not? Heretics and their supporters broke the rules of the Church and also committed the secular crime of lèse-majesté. This paper examines the range of punishments for breaking Church law both available to, and actually used by, Italian inquisitors in the 13th and early 14th centuries. It analyses discrepancies in punishment for offences of similar gravity, and considers reasons why inquisitors acted differently in dealing with similar cases. Evidence comes from all known inquisition sentences in Italy, together with material from account books in the Vatican Archive.
Paper B:
Lamentacio:
Inquisition, Torture and the English Templars
Larissa Tracy, Medieval Literature, Longwood University (Virginia, USA)
Some of the most notorious accounts of torture come from the depositions and surviving trial documents of the Knights Templar, arrested in France 1307, where royal instructions were given by Philip IV that prisoners 'were to be terrorised by threats and torture in advance of their official appearance before the inquisitors.' However, English Templars were not interrogated under torture. Edward II would not allow papal inquisitors to interrogate English knights under the threat of torture because English common law forbade it. The inquisitors who were sent to England to examine the imprisoned knights met with resistance and were unable to facilitate mass confessions on the same scale as in France, where the Inquisition had been accepted and was used as a tool of the monarchy.
Paper C:
Rules and Practice for Mendicant Asylum in Late Medieval Northern Europe
Johnny Grandjean Gøgsig Jakobsen, Nordisk Forskningsinstitut, Københavns Universitet.
Monastic space is not of this world. In some sense, medieval monasteries functioned as 'embassies of Heaven', where laws and rules of the temporal world only had little valid. For this reason, mendicant priories were often used as refuge for people wishing to escape secular justice. This paper will demonstrate how rules of monastic asylum were practiced, kept and sometimes broken at Dominican and Franciscan priories in late medieval Northern Europe.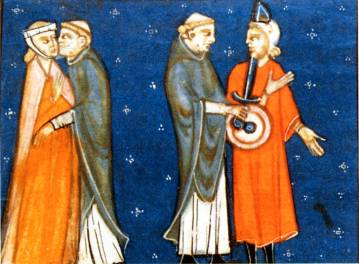 Centre for Dominican Studies of Dacia
Johnny G.G. Jakobsen, Department of Scandinavian Research, University of Copenhagen
Postal address: Njalsgade 136, DK-2300 Copenhagen, Denmark ● Email: jggj@hum.ku.dk